The Best Outdoor Kitchens In Bryan, TX
Don't waste time going in and out of the house. Stay with your friends and family, and cook outdoors with a brand new kitchen!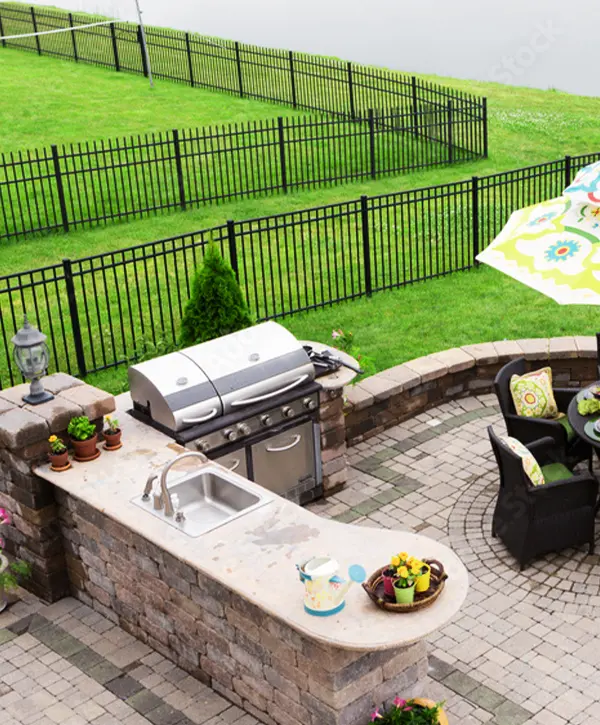 Outdoor kitchens in Bryan, TX, are more than a trend; they're a lifestyle. They offer an extension of your living space, the perfect spot for entertaining family and friends, and a place to enjoy the great Texan outdoors.
And who better to bring this dream to life than Legacy Outdoor Services? With over seven years in business, we're a family-owned company with a reputation for quality. Our in-house installation crew, backed by a 1-year craftsmanship warranty, ensures a seamless and worry-free experience.
Get More than an Outdoor Kitchen, Get a Legacy Experience
Choosing us means choosing a partner that cares about your needs. We believe in conversations, in asking questions to truly understand your ideal outdoor space. Every solution we suggest is custom-tailored to you. With our diverse-skilled employees, we're not just building outdoor kitchens in Bryan, TX, we're improving the homeowner-contractor relationship. We're creating a legacy, built on trust and quality, just for you.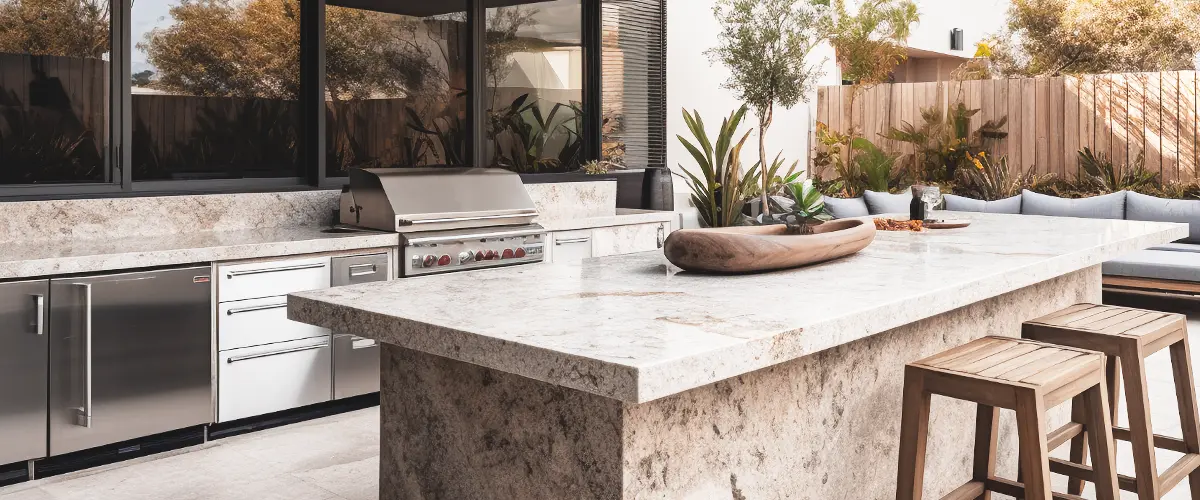 Enjoy our comprehensive services, backed by:
Enjoy Peace of Mind with Our Trusted Reviews
Experience the Legacy difference through the lens of our satisfied customers. Their glowing reviews reflect the quality, trust, and professionalism we consistently deliver when building outdoor kitchens in Bryan, TX.
After having trouble finding a fencing contractor in the BCS area, I contacted Legacy Outdoor Services (formerly Aggieland Dirt Works). Trevor Young replied to me promptly and I received a very reasonable quote. We scheduled a day for the demolition of the old fence and the crew was right on time and finished the job quickly and very well done.
Trevor and Chelsi were both very responsive and their crew installed a very high quality fence – both materials and workmanship. I highly recommend contacting them for any of your outdoor construction projects.
Such a wonderful experience working with Trevor and Chelsi. They were both very responsive and their crew were very professional and really knew what they were doing. We had bad grading in our backyard.
Trevor came right out and helped bring our backyard back to what we dreamt it could be. His crew did incredible workmanship in a quick manner. Trevor personally called me after the job was done to check to make sure we were happy and that everything went as planned.
Having that level of personal care to me is one of the best qualities a business can have. I highly recommend contacting them for any of your outdoor construction projects.
Types Of Upgrades For Outdoor Kitchens In Bryan, TX
Discover a range of upgrade options we offer for outdoor kitchens in Bryan, TX. From custom grills to fire pits, our specialized services aim to enhance your outdoor cooking experience and transform your backyard into a culinary paradise.
Grills, Smokers, And Ovens
We all know that the heart of any kitchen, especially outdoor kitchens in Bryan, TX, is the cooking appliances. So allow us to introduce grills, smokers, and ovens. These are the culinary powerhouses that transform your outdoor kitchen from just another patio to a gastronomic haven under the Texan sky.
Whether you're whipping up some BBQ ribs on the grill, smoking a brisket for that melt-in-your-mouth texture, or baking a homemade pizza in the oven, these appliances are essential. They not only elevate your cooking game but also enhance the overall outdoor dining experience. Trust us, these are upgrades you definitely want to consider.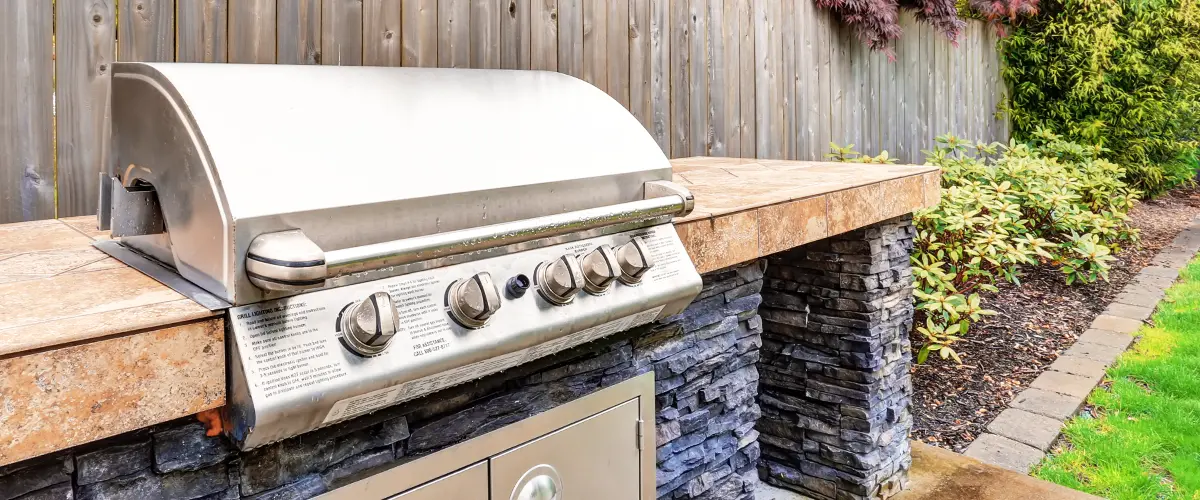 Countertops are the unsung heroes of outdoor kitchens in Bryan, TX. Think about it – this is where the magic happens. Your countertop is the stage for those delicious BBQ spreads, chilled drinks, and good times shared with loved ones.
But it's not just about functionality; it's about style too. With a range of materials like granite, concrete, or tile at your disposal, you can really make a statement. Remember, a good countertop is like a good backdrop – it sets the scene for the star of the show, your mouth-watering meals. Trust us, your outdoor kitchen deserves a countertop that complements it perfectly.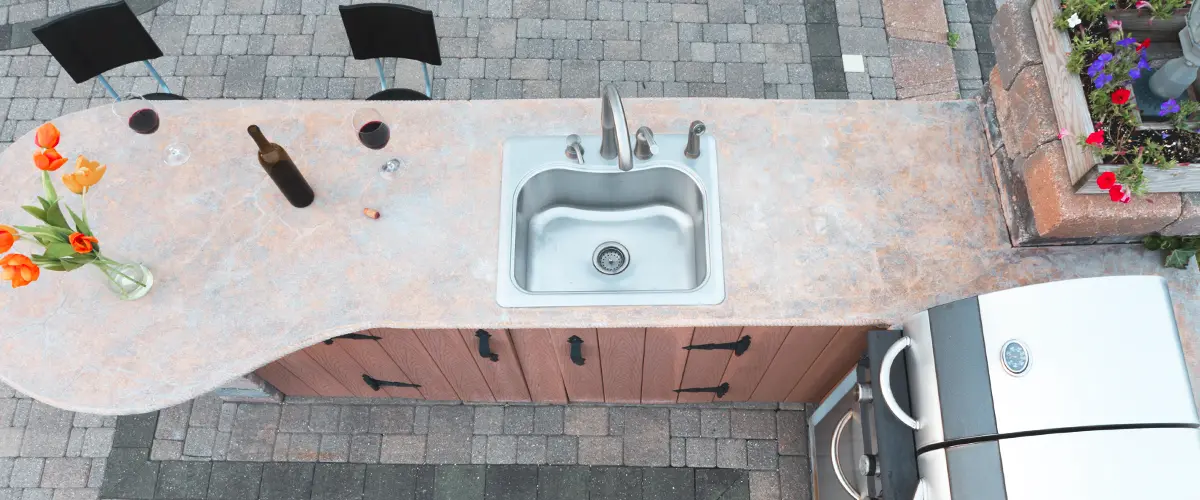 Material
Pros
Cons
Granite
Durable and weather-resistant
Heat and scratch-resistant
Available in various colors
Can be expensive
May require sealing
Heavy and difficult to install
Concrete
Customizable design options
Can be stained and sealed
Durable and long-lasting
Prone to cracking and staining
Regular maintenance needed
Initial curing time required
Tile
Wide variety of colors/styles
Resistant to heat and moisture
Affordable and DIY-friendly
Grout lines can stain and wear
Individual tiles may chip
Uneven surface for food prep
Stainless Steel
Sleek and modern appearance
Resistant to rust and stains
Easy to clean and sanitize
Prone to scratches and dents
Can get hot in direct sunlight
Can be noisy during use
Soapstone
Rich and elegant appearance
Resistant to heat and stains
Non-porous and durable
Requires regular oiling
Can develop surface scratches
Limited color options
Wood
Natural and warm aesthetic
Ideal for food preparation
Can be sanded and refinished
Requires frequent maintenance
Susceptible to moisture damage
Vulnerable to heat and stains
An outdoor bar is the ultimate upgrade for your outdoor kitchen in Bryan, TX, transforming it into the ultimate entertainment hub. Picture this: You're grilling up a feast, your guests are lounging, laughter fills the air, and right there, adding to the atmosphere, is your sleek, well-stocked outdoor bar.
It's more than a place to mix drinks; it's a statement of sophistication and style. Whether it's a laid-back BBQ or a lively game night, an outdoor bar ensures your outdoor kitchen is always the heart of the fun. Trust us, this upgrade is an investment in good times ahead.
Outdoor lighting is a crucial component of any outdoor kitchen in Bryan, TX. Why? Simple—imagine grilling your favorite dish or sharing a meal with loved ones under the starlit sky, with just the right amount of light to add warmth and ambiance.
Proper lighting not only enhances the beauty of your outdoor kitchen but also ensures functionality after sunset. It's about safety, visibility, and setting the mood. Trust us, integrating lighting into your outdoor kitchen design is one investment you'll appreciate every time dusk sets in. Step into the light of Legacy Outdoor Services, and illuminate your outdoor living experience.
Outdoor Sink And Refrigerator
An outdoor sink and refrigerator are essential elements of your outdoor kitchen in Bryan, TX, bringing convenience and functionality right to your backyard. Imagine you're in the middle of your BBQ party and need to wash your hands or rinse off vegetables. Having an outdoor sink saves you the trouble of running indoors.
Similarly, an outdoor refrigerator keeps your drinks chilled and your food fresh, right at your fingertips. These upgrades not only make your outdoor cooking experience easier but also enhance the overall enjoyment of your outdoor space. 
A storage area is an often overlooked, yet vital component of outdoor kitchens in Bryan, TX. Picture this: your tools, grilling supplies, and outdoor dishware, all neatly organized and within arm's reach, right where you need them.
No more running back and forth to the house every time you need something. It's all about convenience and efficiency. Trust us, having a dedicated storage area in your outdoor kitchen makes for a more enjoyable and less stressful cooking experience. We at Legacy Outdoor Services believe it's these small details that make a big difference.
Journey Through Our 3-Step Process to Your Dream Outdoor Kitchen
Embarking on your outdoor kitchen journey with Legacy Outdoor Services is as easy as one-two-three. Follow these simple steps to arrive at your destination: a perfect outdoor kitchen in Bryan, TX.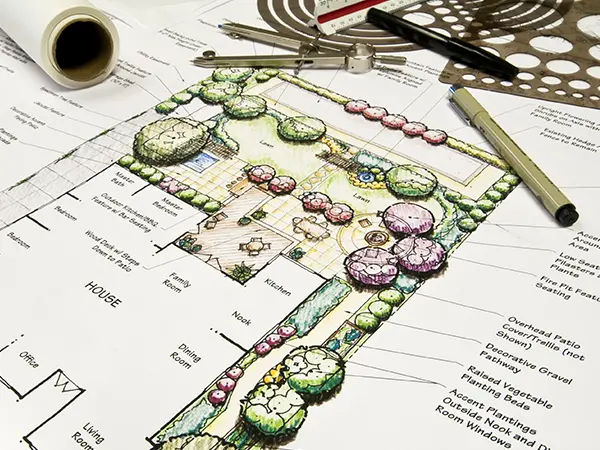 Through consultation and open dialogue, we understand your unique needs and aspirations for your outdoor kitchen.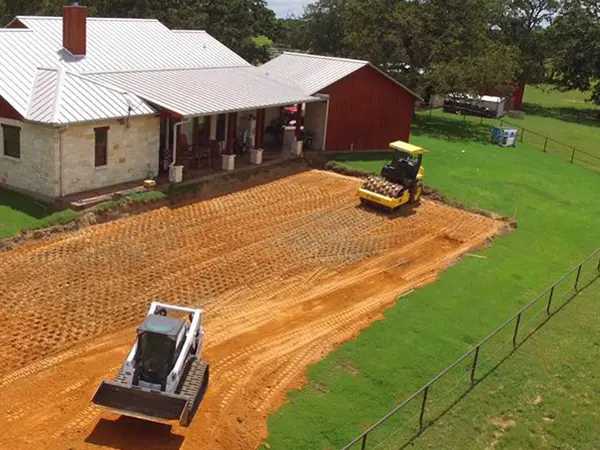 Our skilled team executes the design with precision, adhering to top industry standards and your personal preferences.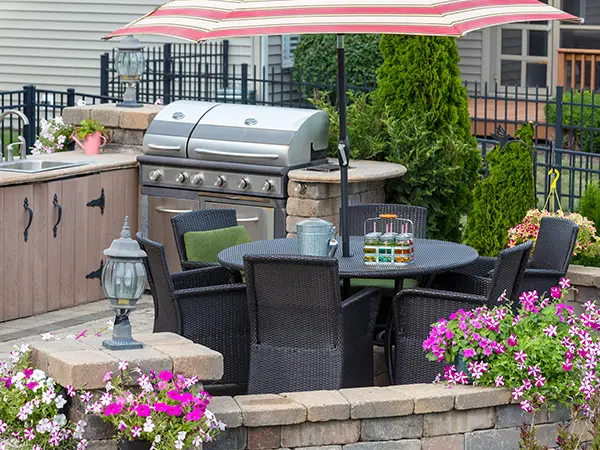 Relish in the beauty of your customized outdoor kitchen, designed for memorable experiences under the Texan sky.
FAQs About Outdoor Kitchens In Bryan, TX
Choose Legacy Outdoor Services: Your Best Choice for Outdoor Kitchens in Bryan, TX
Choosing Legacy Outdoor Services means choosing a family-owned business that values your vision for a dream outdoor kitchen. With over seven years in the industry, our commitment to quality craftsmanship and customer satisfaction is unparalleled in Bryan, TX.
With our 7+ years of experience, we bring deep knowledge and an in-house crew ensuring top-notch installation.
We ask questions, listen, and provide solutions tailored specifically to your needs.
Our team has a wide array of skills, all united under the common vision of improving the homeowner-contractor relationship.
We offer a 1-year craftsmanship warranty, highlighting our confidence in the quality of our work.
Stay At The Center Of The Party By Cooking In Your Personalized Outdoor Kitchen
We're ready to assist you in transforming your outdoor living dreams into reality. When you partner with Legacy Outdoor Services, you're not just getting a contractor – you're gaining a committed partner who prioritizes your vision, listens to your needs, and delivers personalized solutions.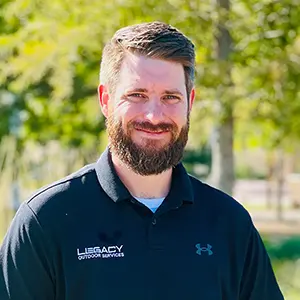 Let's get started on your dream outdoor kitchen in Bryan, TX. Give us a call at (979) 575-6019 or click the button below to send us a message. We're excited to hear from you!
Nestled in the heart of the Brazos Valley, Bryan, TX is a vibrant city steeped in history and bursting with culture. Home to the majestic Messina Hof Winery, the historic Carnegie Library, and the iconic Kyle Field Stadium, Bryan offers a unique blend of Texan charm and cosmopolitan allure. For nature enthusiasts, the Lake Bryan Park offers stunning landscapes and diverse recreational activities. With a rich heritage, bustling downtown, and welcoming community, Bryan is a delightful destination to explore, live, and of course, build your dream outdoor kitchen.