Gain time with low-maintenance xeriscaping in Bryan, College Station, and more of Brazos County, Texas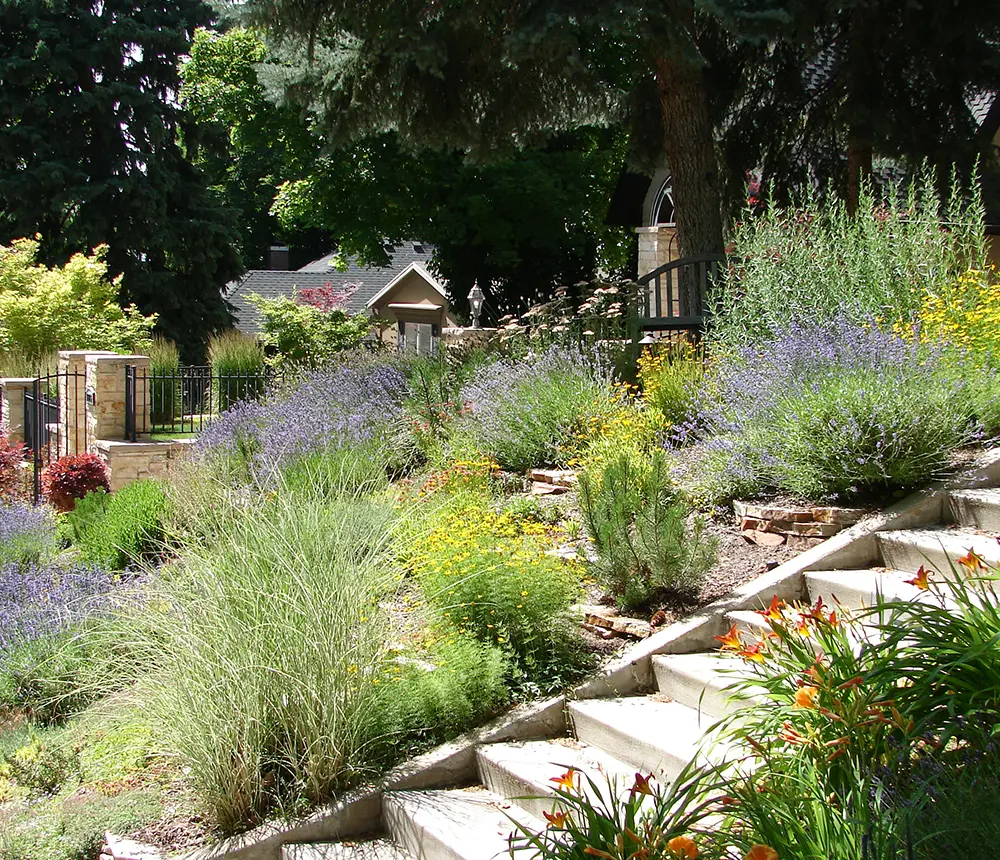 Scroll down to discover xeriscaping options, process, and pricing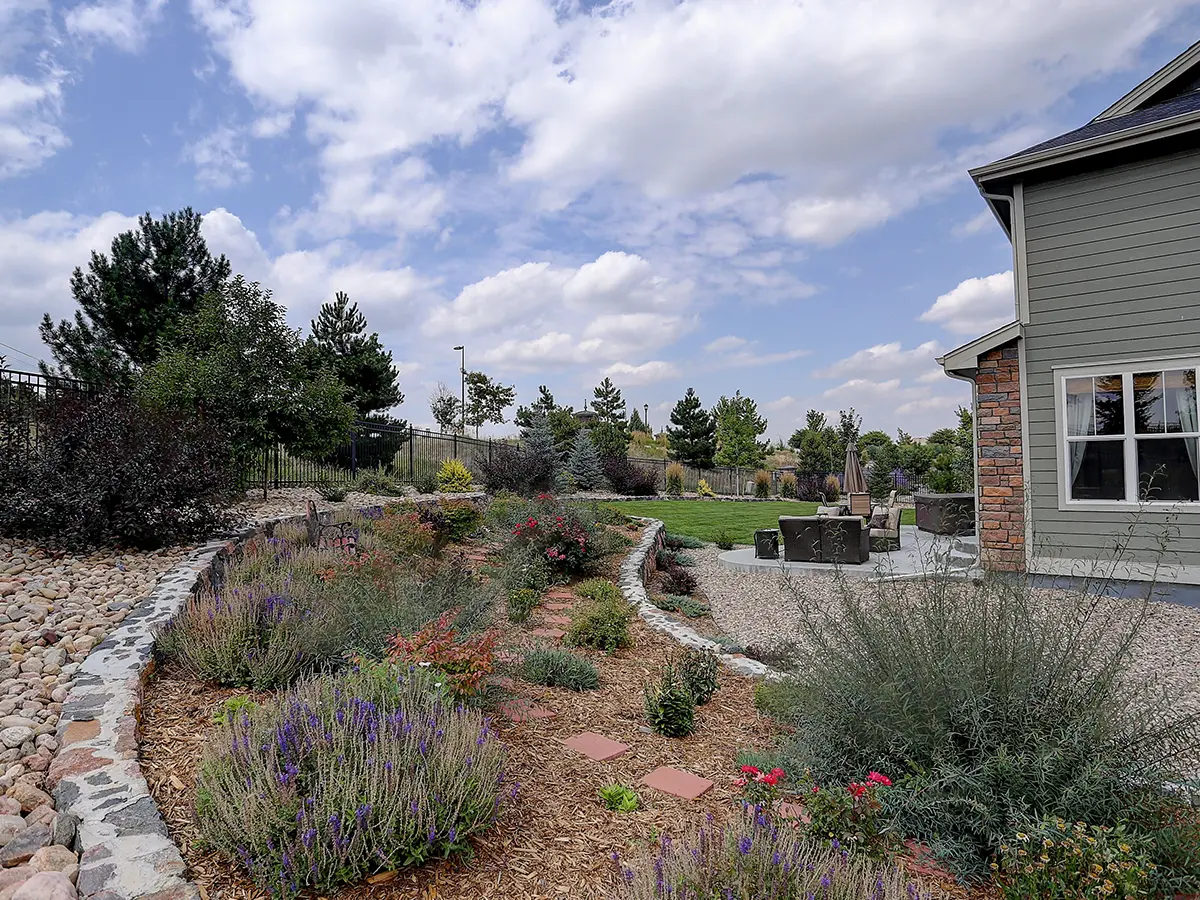 A Sustainable, Low-Maintenance, Water-Saving Landscape
Xeriscaping is a sustainable landscaping approach that uses drought-resistant plants, natural materials, and water-saving techniques to create beautiful outdoor spaces.
At Legacy Outdoor Services, we love to teach people about these eco-friendly sanctuaries that save them money and time. Embrace the beauty of natural stone and low-maintenance plants while enjoying an unparalleled customer experience.
Let us help you turn your yard into a space you can care for with minimal effort.
Enjoy a hands-off xeric landscape with these benefits:
Take A Look At Our Past Xeriscaping Projects
Learn More About Xeriscaping In Bryan, Texas
On average, a xeriscaping project for around 1500 square feet, including walkways, garden beds, rock, and flagstone, typically costs around $10,000. For larger projects covering the entire backyard, the cost may range from $20,000 to $30,000.
For an average-sized xeriscaping project, we can complete the installation within a week. Larger spaces may require up to two weeks to ensure every detail is meticulously handled. Rest assured, we work diligently to bring your vision to life without compromising on quality.
Yes, removing existing vegetation, including grass, is a crucial step in the xeriscaping process. Thorough removal reduces the potential for weeds to grow underneath the weed barrier fabric.
For projects like a flagstone walkway, we take the preparation a step further by removing the grass and around 3-4 inches of soil. This ensures a well-compacted subgrade before the installation of the walkway materials, resulting in a long-lasting and stable feature.
We recommend using natural stone and rock as primary materials for your xeriscape landscape. These elements not only lend a timeless and organic appeal but also provide excellent durability and resilience against the local climate.
In terms of xeriscape plants, some of the most common plants we use Red Yucca, Agave, Daylily, Flax Lily, Pink Muhly Grass, Texas Sage, Lantana, Esperanza, Liriope, Succulents, Prickly Pear Cactus, and more.
To combat weeds, we employ a multi-faceted approach. We start by laying weed barrier fabric, preventing spore germination from neighboring lawns when mowed.
While the fabric significantly reduces weed growth, it's essential to acknowledge that some weed control is still required. Our team applies targeted sprays as needed, ensuring a weed-free and immaculate xeriscape landscape.
While xeriscaping significantly reduces water usage compared to traditional lawns, it's essential to maintain consistent moisture levels in the soil to protect your home's foundation.
We advise homeowners to irrigate their xeriscape properties as if they had a grass lawn, especially in regions like ours with clay soils that can shrink when dry.
Proper irrigation ensures a healthy foundation and minimizes the risk of structural issues. Our expertise in dirt work allows us to implement targeted irrigation solutions, focusing on the soil around the foundation.
Pricing For Xeriscaping In Texas
Before
After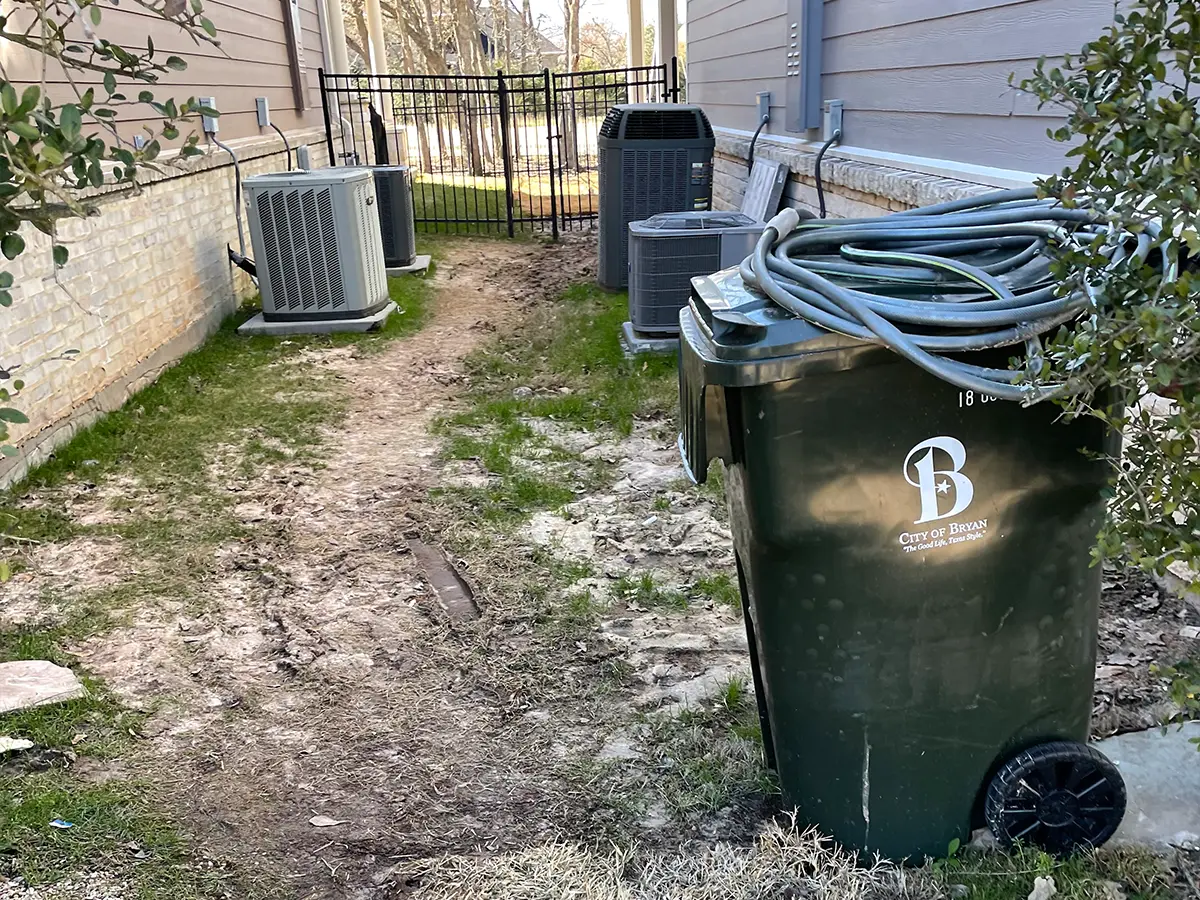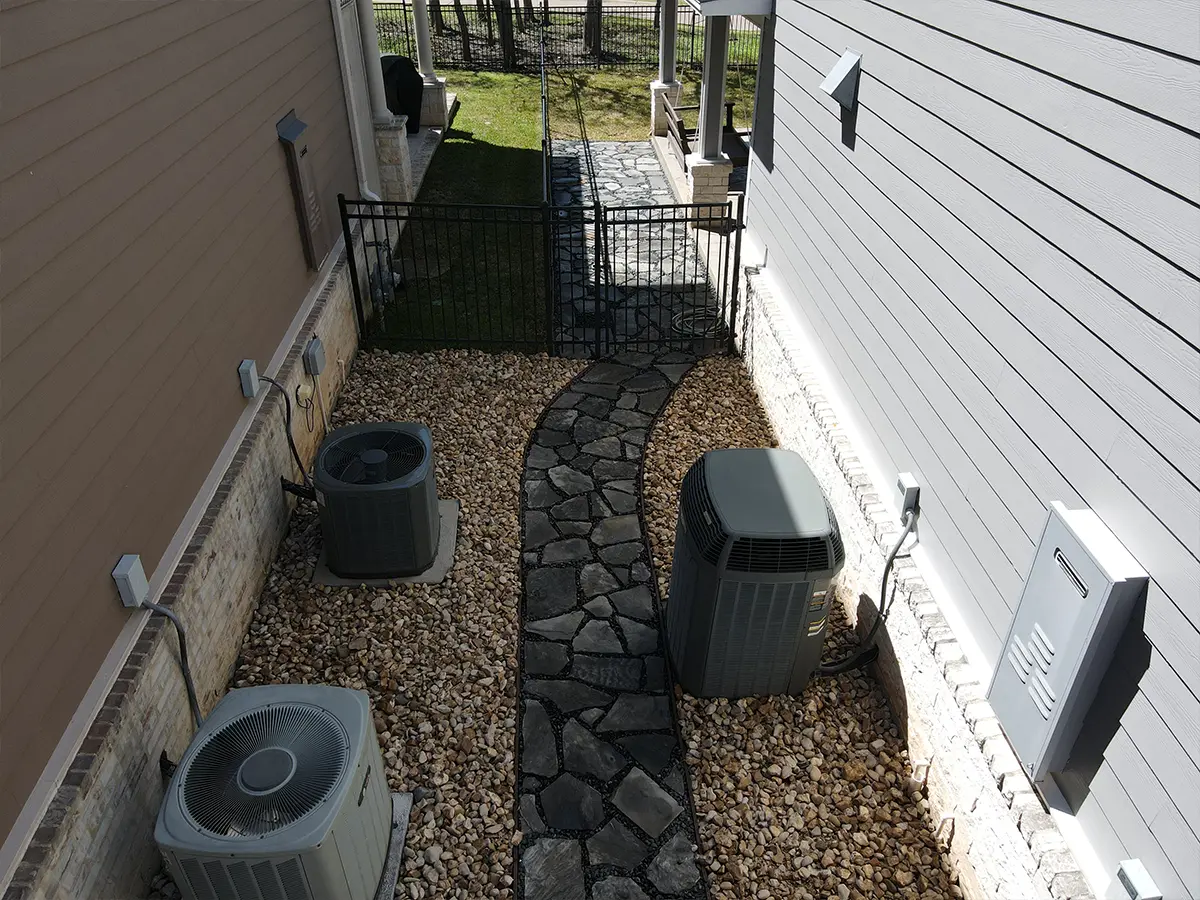 Flagstone walkway in College Station, Texas
This 234 ft². xeriscaping project included:
This project was quoted at $6,100.
Before
After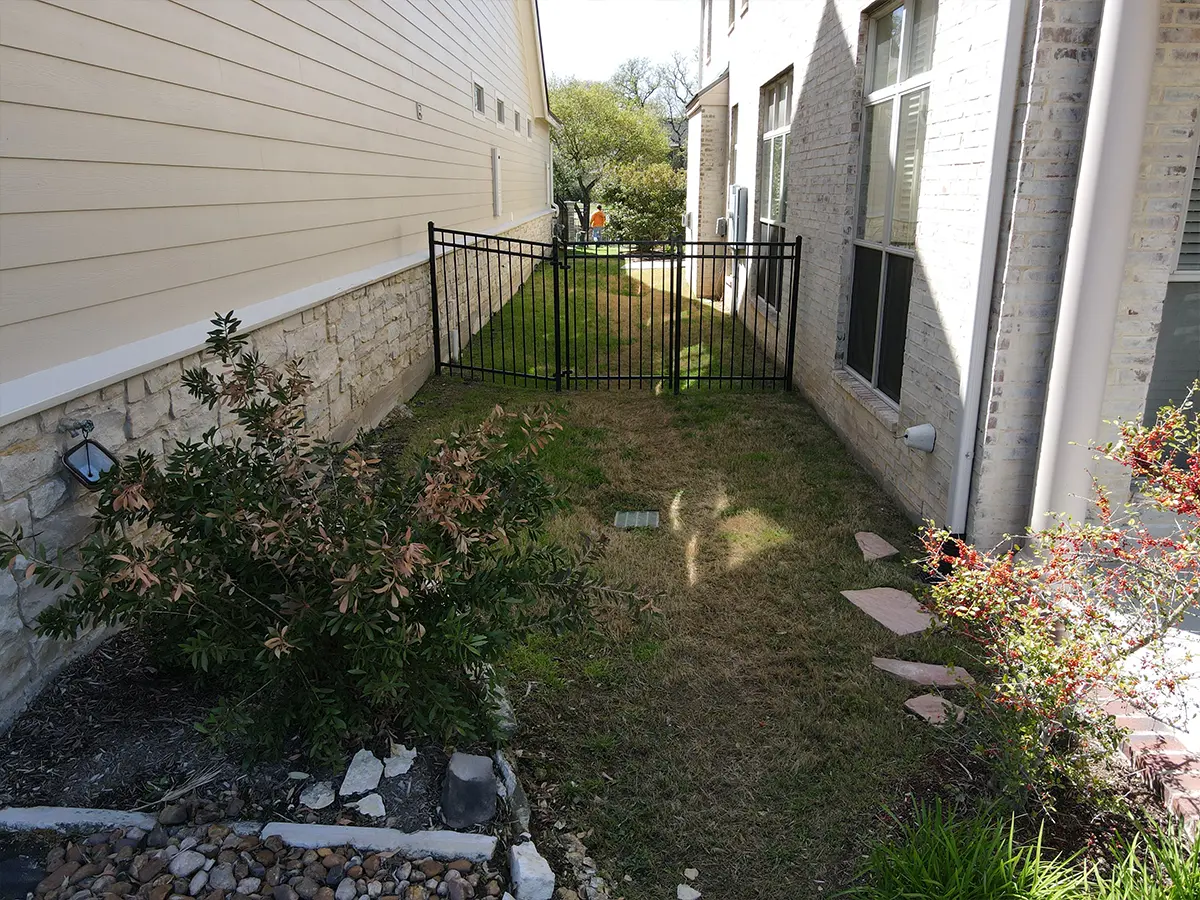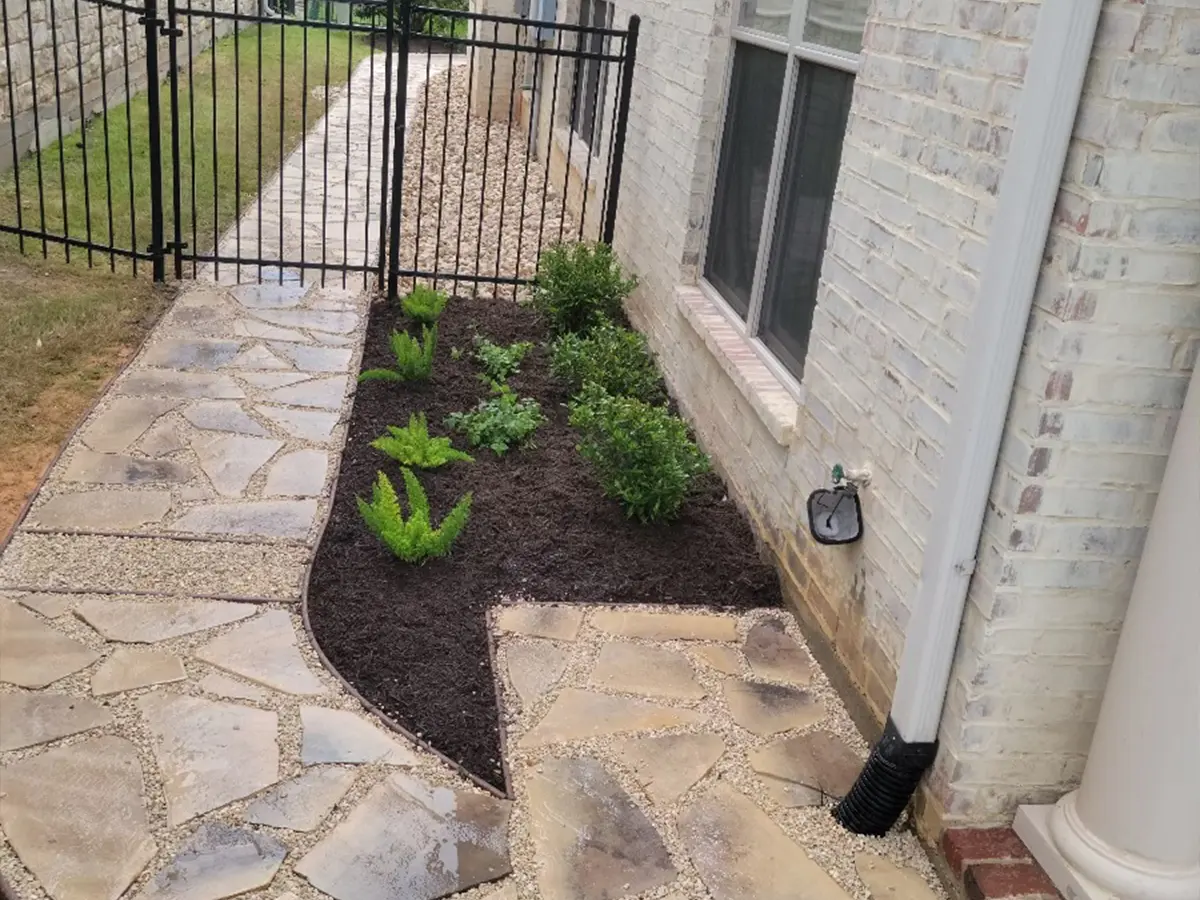 Flagstone walkway in Bryan, Texas
This 210 ft². xeriscaping project included:
This project was quoted at $5,800.
Before
After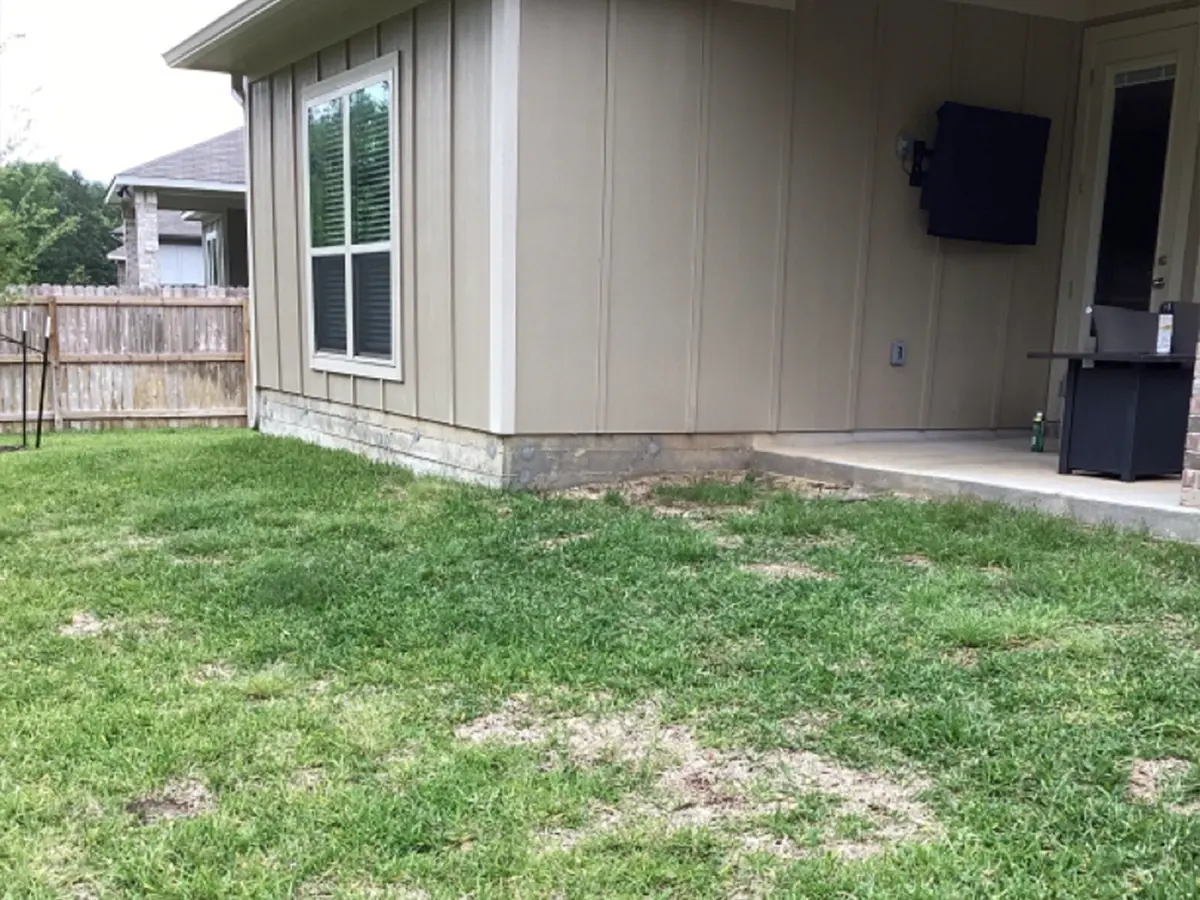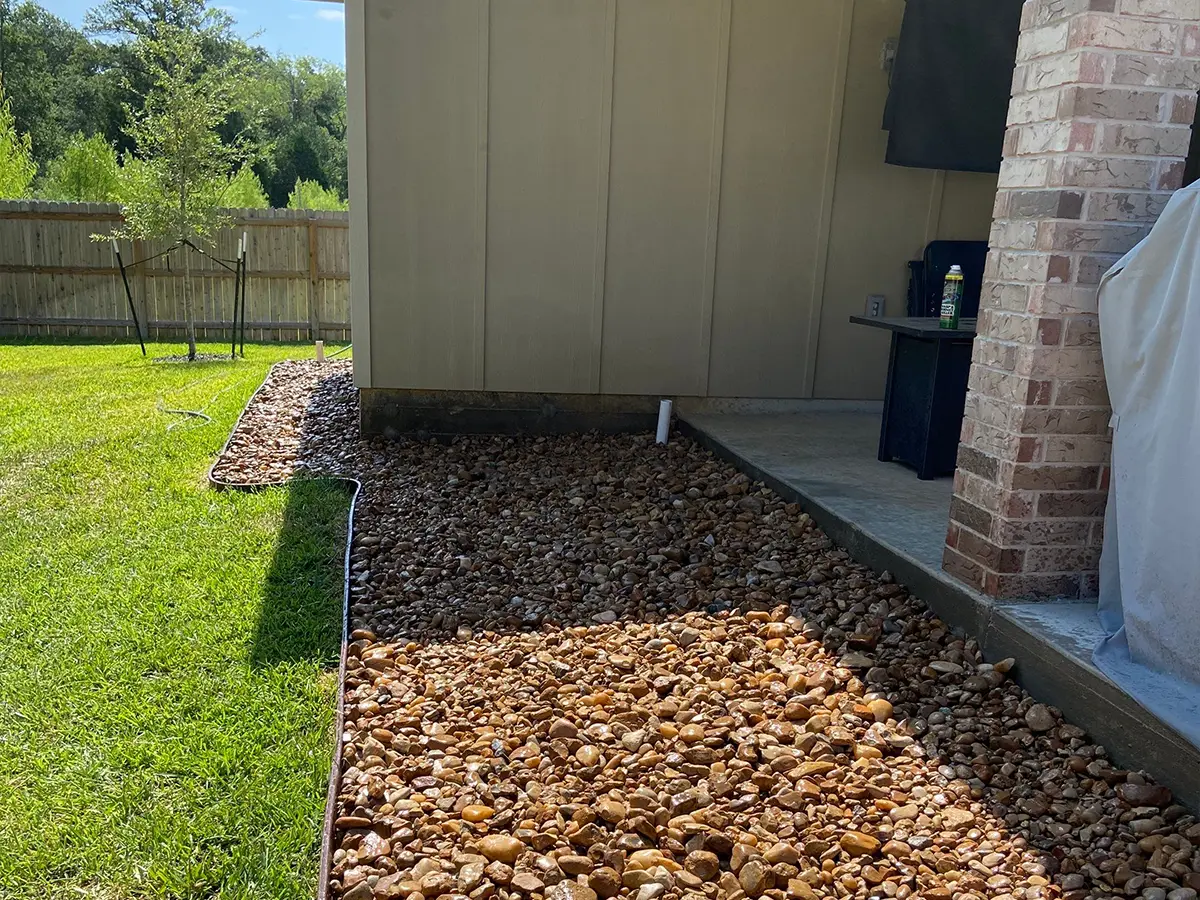 River rock xeriscaping in Bryan, Texas
This 450 ft². xeriscaping project included:
This project was quoted at $4,900.

Want To Get Your Xeriscaping Project Started Sooner?
Enjoy sustainable and reliable financing solutions offered by our partners at GreenSky. Now, money is not a concern for your xeriscaping project.
Committed To Great Results Without Getting In Your Way
Resume your daily activities while our crew does all the xeriscaping work.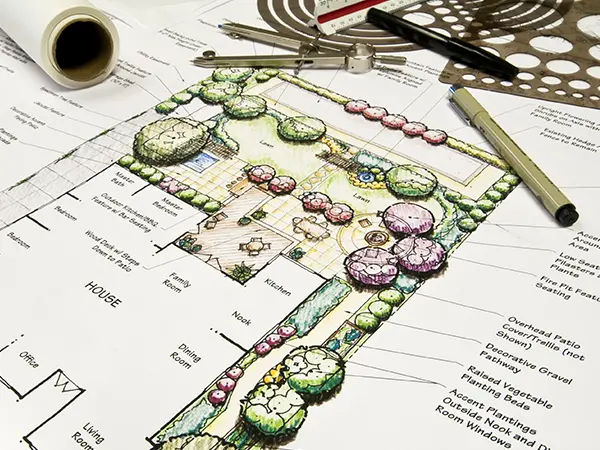 We'll talk about your space, needs, and plant choices and create a plan to offer you the ideal xeriscaping setup.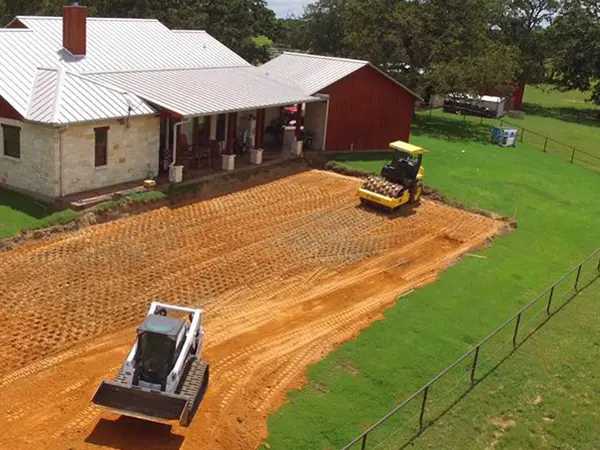 With our extensive soil knowledge, we can handle xeriscaping implementation and educate you on proper irrigation methods.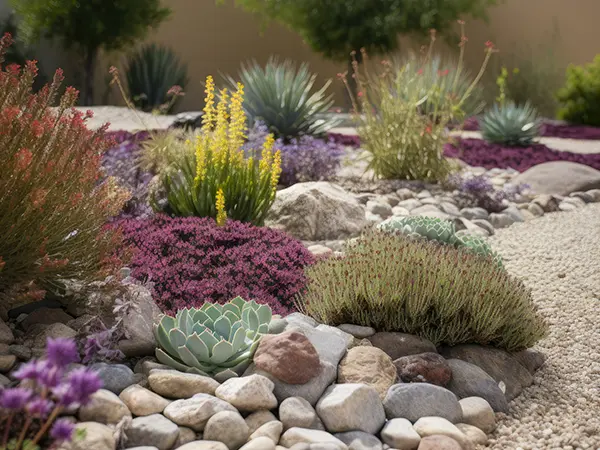 Save water and keep your home's foundation protected, all whilst enjoying a maintenance-free yard.

As a Google Guaranteed company, we give you the peace of mind that you'll receive top tier service. We have passed Google's thorough verification and training and you can rest assured your home is in good hands.

Being part of NALP helps us show our passion for leading the way in the industry. You have our promise that we'll maintain top-tier practices and keep up with the trends to give you an amazing outdoor space.
Rebranded from Aggieland Dirt Works, we have the same level of commitment
Some Of The Clients We Helped Say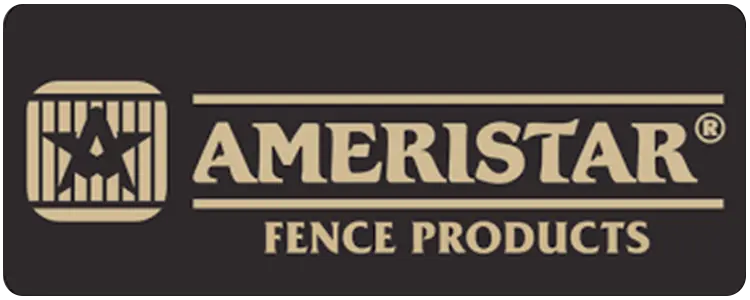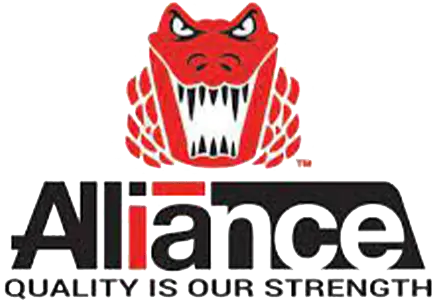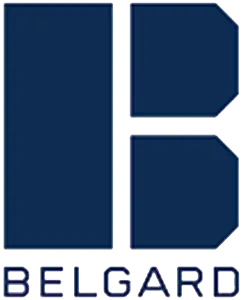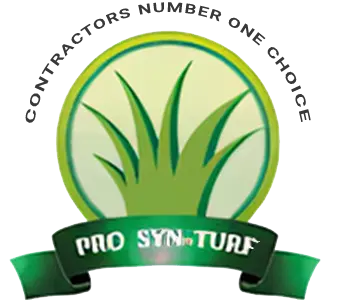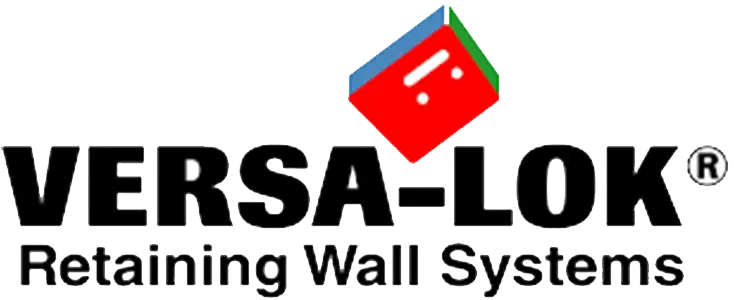 Such a wonderful experience working with Trevor and Chelsi. They were both very responsive and their crew were very professional and really knew what they were doing.
We had bad grading in our backyard. Trevor came right out and helped bring our backyard back to what we dreamt it could be.
His crew did incredible workmanship in a quick manner. Trevor personally called me after the job was done to check to make sure we were happy and that everything went as planned.
Having that level of personal care to me is one of the best qualities a business can have. I highly recommend contacting them for any of your outdoor construction projects.
After receiving multiple bids and receiving input from various companies, we went with Aggieland Dirt Works to lay St Augustine sod in our yard.
Dylan and team did a great job of communicating from the time they gave us their bid until after the work was completed.
Dylan came back out after the install and rolled the sod to ensure it was rooting correctly.
We couldn't be happier with their work and their excellent customer service! I highly recommend this team!
I cannot recommend Aggieland Dirt Works enough!
They came to our rescue when we needed to grade and clear our property as well as lay sod.
They also connected us with an irrigation company to install sprinklers.
Great, prompt service and will definitely be calling them again when we have another project they can help with. Thank you!
The Low-Maintenance Landscape Your Want Is Almost There
Guide us through your vision and watch as we bring it to life.
Equipment Stays On-Site Until You're Thrilled With The Result
At Legacy Outdoor Services, we bridge the gap between contractors and homeowners by delivering an unparalleled customer journey from start to finish.
From the first point of contact with our sales department to personalized video introductions from our project managers, we ensure you are informed and educated every step of the way.
Our in-house crews, boasting diverse skills and knowledge, allow us to take on various projects with attention to detail and an unwavering commitment to your satisfaction.
Forget Weekly Landscape Maintenance And Pretentious Plants With Xeriscaping