The Best Outdoor Kitchens In College Station, TX
Enjoy every warm day outside with a fully-equipped outdoor kitchen in College Station, TX.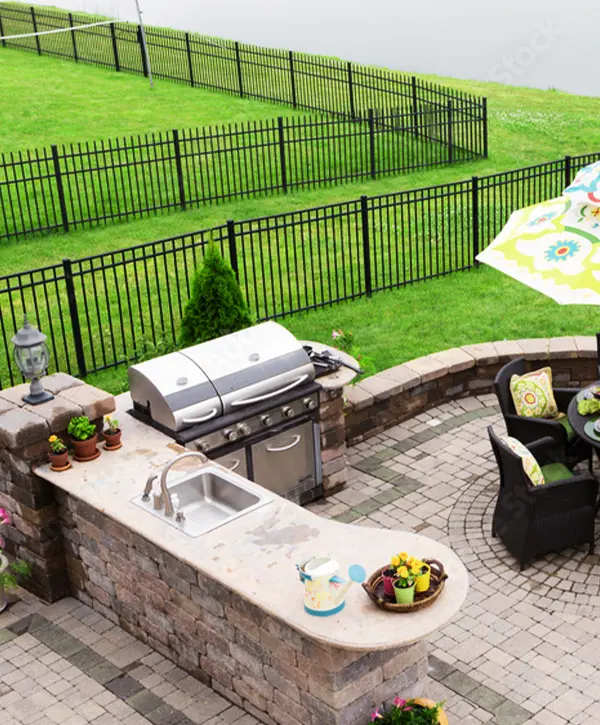 With the warm, inviting climate of College Station, TX, an outdoor kitchen could transform your backyard into a space of culinary delight and social bonding. Legacy Outdoor Services is your reliable partner for this makeover. With over 7 years of experience and a one-year craftsmanship warranty, we build outdoor kitchens that blend functionality with your unique style.
As a family-owned venture, we prize relationships— we take time to understand your needs, and our in-house team, equipped with a diverse set of skills, ensures a hassle-free experience. Let us redefine your homeowner-contractor relationship while we create a spectacular outdoor kitchen for you.
Experience Unmatched Quality and Personalized Care with Legacy Outdoor Services
When you choose Legacy Outdoor Services, you opt for more than just an outdoor kitchen. Our promise is a unique blend of top-tier craftsmanship, personalized solutions, and a relationship that extends beyond the project. 
We dedicate ourselves to transforming backyards into dream culinary spaces, always focusing on your vision. With us, you gain a dependable outdoor contractor committed to enhancing your living spaces and experiences.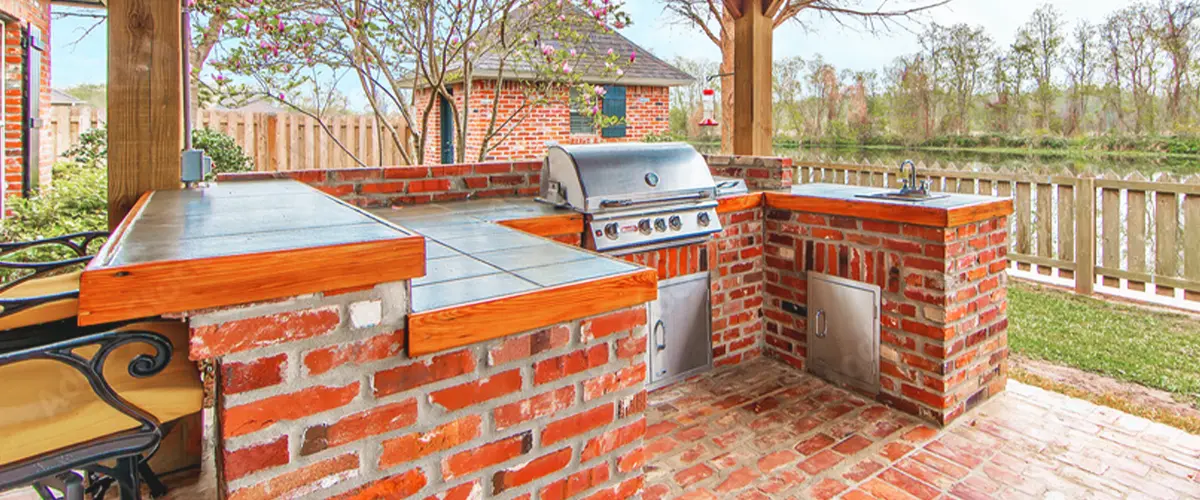 Enjoy our comprehensive services, backed by:
Discover the Legacy Difference Through Our Client Testimonials
Each review offers insight into our dedication to craftsmanship, personalized service, and the transformational impact of our outdoor kitchens in College Station, TX. Your dream outdoor space is just a review away.
It was so easy to work with Legacy Outdoor (previously Aggieland Dirt Works) for our front yard project. Chelsi and Trevor came over to learn what we liked and didn't like. From there they sent us renderings and helped us work through the whole process.
We ran into a small hiccup with space and Chelsi called me while we were out of town to talk through options. Super happy with the way things look and how it has transformed the front of our home. They even replaced a metal border that was never there to complete the project. I would absolutely work with them again!
I cannot recommend Aggieland Dirt Works enough! They came to our rescue when we needed to grade and clear our property as well as lay sod. They also connected us with an irrigation company to install sprinklers. Great, prompt service and will definitely be calling them again when we have another project they can help with. Thank you!
Types Of Upgrades For Outdoor Kitchens In College Station, TX
Whether you're having a casual dinner with family or hosting a grand cookout, the perfect outdoor kitchen upgrades ensure your space is as functional as it is stylish. Explore the variety of upgrades Legacy Outdoor Services can offer for your outdoor kitchen in College Station, TX.
Grills, Smokers, And Ovens
Outdoor kitchens in College Station, TX, experience a game-changer when equipped with grills, smokers, and ovens. These appliances are the heart of your outdoor culinary space, transforming it into a gourmet chef's paradise.
Imagine the smoky flavor of a perfectly grilled steak, or freshly baked pizza with a crispy crust, prepared right in your backyard. Enhance your outdoor cooking experience and impress your guests with the versatility and potential of your outdoor kitchen.
Remember, it's not just about cooking; it's about creating memorable experiences with every meal you prepare outdoors. Trust us, at Legacy Outdoor Services, to deliver that dream.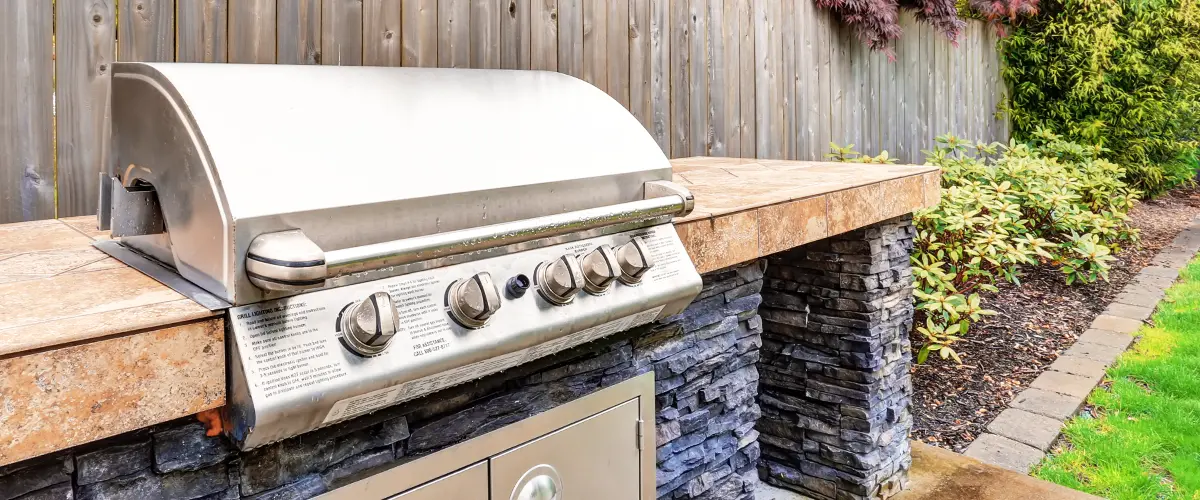 Countertops are the perfect finishing touch to your outdoor kitchen in College Station, TX. They offer the much-needed work surface for meal prep, serving, and even casual dining. We understand that each outdoor kitchen is unique, and thus we provide a variety of materials – from sleek stainless steel to rustic stone, each with its unique aesthetic and practical benefits.
With the right countertop, your outdoor kitchen becomes not only a cooking space but also a hub for family gatherings and social events. Trust Legacy Outdoor Services to help select and install the ideal countertop that complements your lifestyle and aesthetic preferences.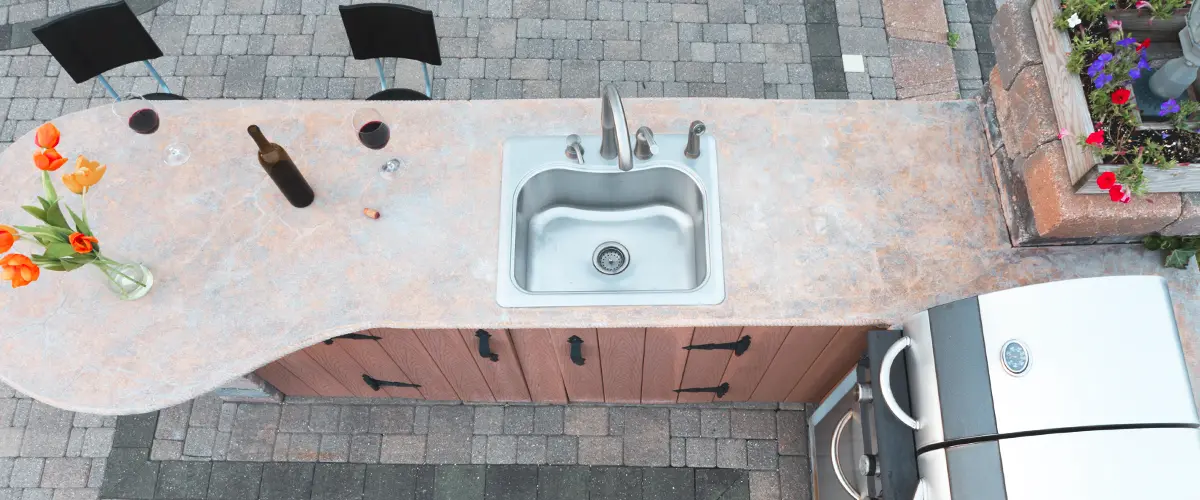 Material
Pros
Cons
Granite
Durable and weather-resistant
Heat and scratch-resistant
Available in various colors
Can be expensive
May require sealing
Heavy and difficult to install
Concrete
Customizable design options
Can be stained and sealed
Durable and long-lasting
Prone to cracking and staining
Regular maintenance needed
Initial curing time required
Tile
Wide variety of colors/styles
Resistant to heat and moisture
Affordable and DIY-friendly
Grout lines can stain and wear
Individual tiles may chip
Uneven surface for food prep
Stainless Steel
Sleek and modern appearance
Resistant to rust and stains
Easy to clean and sanitize
Prone to scratches and dents
Can get hot in direct sunlight
Can be noisy during use
Soapstone
Rich and elegant appearance
Resistant to heat and stains
Non-porous and durable
Requires regular oiling
Can develop surface scratches
Limited color options
Wood
Natural and warm aesthetic
Ideal for food preparation
Can be sanded and refinished
Requires frequent maintenance
Susceptible to moisture damage
Vulnerable to heat and stains
An outdoor bar is a fantastic addition to your outdoor kitchen in College Station, TX. It's more than just a place to serve drinks; it's the heart of entertainment in your backyard, a spot for relaxing, unwinding, and socializing. 
Enjoy a cool summer evening with a freshly mixed drink, surrounded by friends and family in your comfortable backyard. At Legacy Outdoor Services, we understand its importance and ensure that your outdoor bar is perfectly designed and installed, matching your style and needs. Trust us to create an outdoor bar that will elevate your backyard gatherings to a whole new level.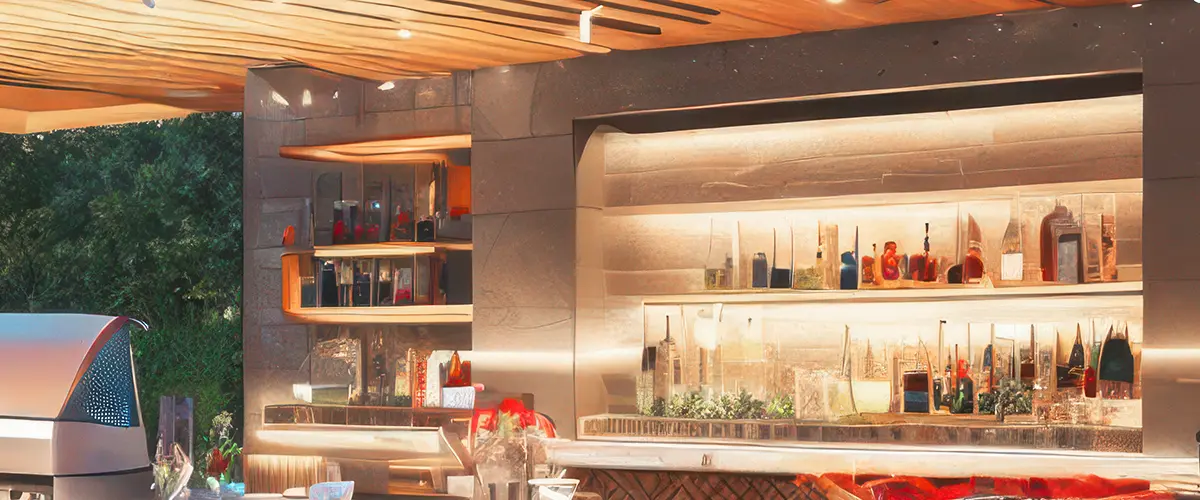 Outdoor lighting is a crucial part of your outdoor kitchen in College Station, TX. Not only does it illuminate your space for nighttime gatherings, but it also enhances safety and adds a magical ambiance to your backyard. With proper lighting, your outdoor kitchen can seamlessly transition from daytime barbecues to cozy evening dinners.
At Legacy Outdoor Services, we help you choose and install the right lighting that complements your style, ensuring that your outdoor kitchen is transformed into a glorious nighttime haven. Trust us to make your outdoor kitchen shine, quite literally!
Outdoor Sink And Refrigerator
An outdoor sink and refrigerator complete your outdoor kitchen in College Station, TX, by providing convenience and functionality. Imagine you're grilling, and you need to wash your vegetables or want a chilled beverage — having these amenities outdoors means no more trips inside. They keep your food fresh and your drinks cold right where you need them.
At Legacy Outdoor Services, we understand these needs and install outdoor sinks and refrigerators that fit seamlessly into your design, enhancing your outdoor cooking and entertaining experience. Trust us to bring the comfort and utility of your indoor kitchen to the great outdoors.
A well-designed storage area in your outdoor kitchen in College Station, TX, is an absolute game-changer. It's more than just a space-saving solution; it's about providing essential convenience for your outdoor cooking and entertaining.
Have all your grilling tools, dinnerware, and even your spices neatly stored, ready for when you need them. No more running back and forth to the indoor kitchen.
We thoughtfully design and install storage areas that not only complement your outdoor kitchen aesthetics but also enhance its functionality. Trust us, this is one upgrade your outdoor kitchen shouldn't be without.
Witness Our Expertise Through Our Portfolio
Explore our extensive project portfolio, a testament to our skilled craftsmanship and innovative designs. Each image showcases our commitment to delivering personalized, high-quality outdoor kitchens that exceed expectations. Our previous works not only foster inspiration but also serve as a guarantee of the superior service we provide.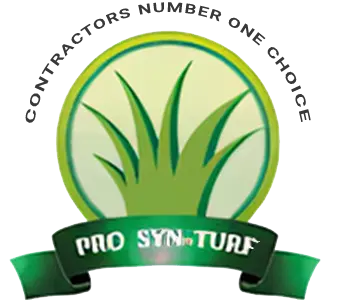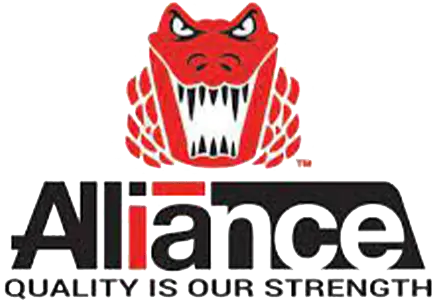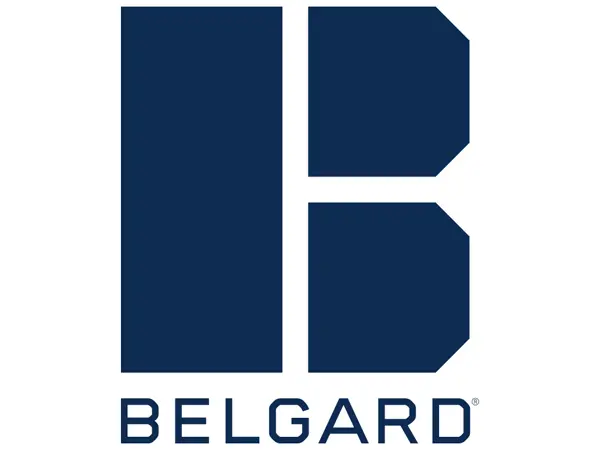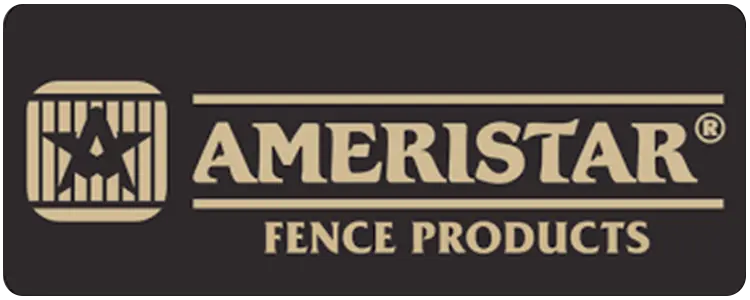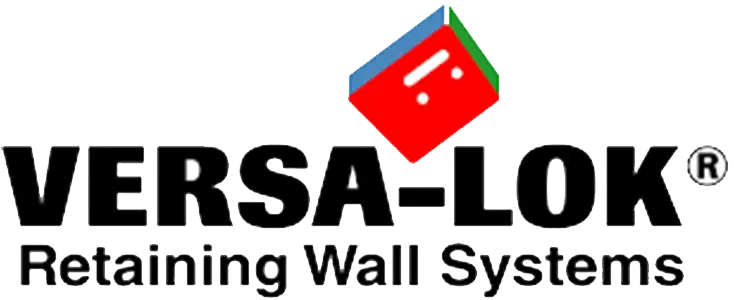 Our 3-Step Process to Your Dream Kitchen
Embarking on the journey to your new outdoor kitchen in College Station, TX, involves three simple yet effective steps — Collaborate, Build, Enjoy.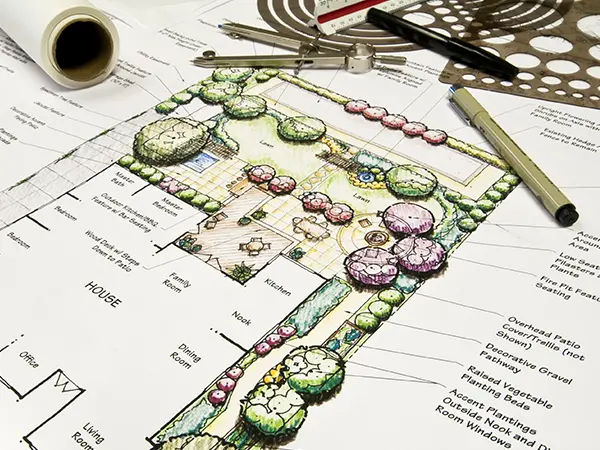 We begin with understanding your vision, needs, and preferences. This close collaboration ensures your new kitchen mirrors your lifestyle perfectly.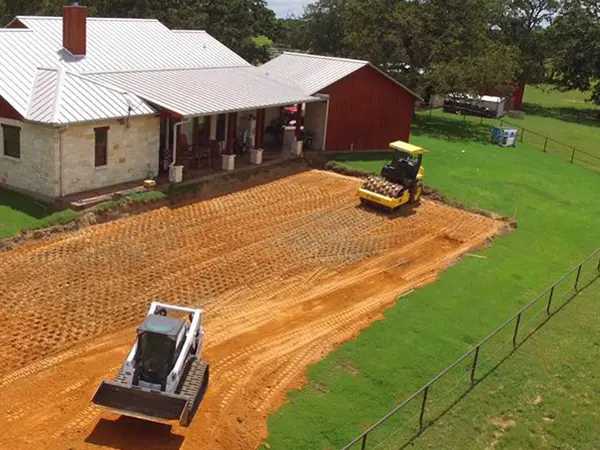 Our experienced in-house team takes the helm, transforming ideas into tangible reality with superior craftsmanship and meticulous attention to detail.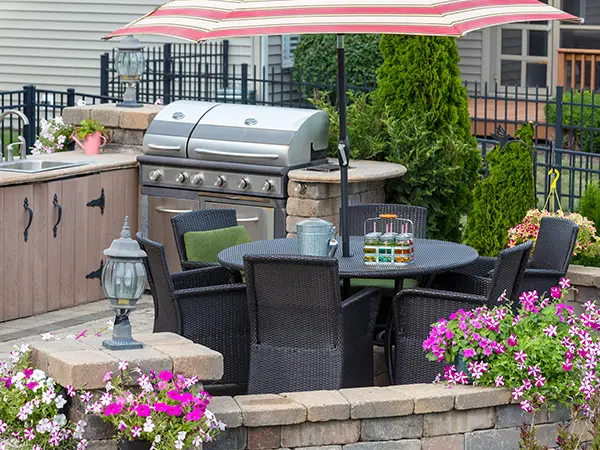 Once completed, it's time for you to explore and enjoy your new outdoor living space, ensuring a lifetime of memorable experiences.
FAQs About Outdoor Kitchens In College Station, TX
Why Legacy Outdoor Services is Your Best Choice
When it comes to outdoor kitchens in College Station, TX, Legacy Outdoor Services stands apart. We're not just contractors; we're partners in creating your dream outdoor space. With our years of experience, personalized solutions, and excellent craftsmanship, we ensure a seamless journey from vision to reality.
Over seven successful years in business, providing superior outdoor solutions.
Our installers work meticulously, upholding high standards of quality and efficiency.
Unmatchable one-year craftsmanship warranty for peace of mind.
As a family-owned business, we foster genuine, long-term relationships with our clients.
Spend Quality Time With Family Outdoors With Your Fully-Equipped Kitchen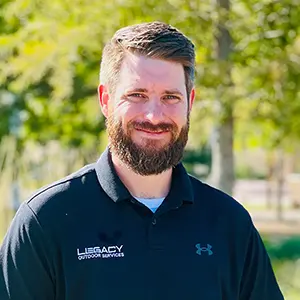 We're here to help. Give us a call at (979) 575-6019 or send us a message. We're available to answer any questions you may have. Once we understand your project details, we can provide a personalized quote tailored to your needs. Start your outdoor kitchen journey with Legacy Outdoor Services today!
Nestled in the heart of Texas, College Station is a vibrant city best known for Texas A&M University, a leading institution brimming with spirited Aggie pride. The city boasts the George Bush Presidential Library, honoring the 41st President's legacy, and the iconic Kyle Field, a football stadium beloved by sports enthusiasts. Downtown College Station enthralls with its mix of local shops, restaurants, and the virescent Wolf Pen Creek Park, a haven for outdoor lovers. College Station beautifully combines small-town charm with a dynamic, innovative spirit.