Embracing the outdoors in your culinary adventures introduces a whole new dynamic to dining at home. Key outdoor kitchen features can transform your backyard into the ultimate cooking and entertaining space. 
Imagine hosting summer barbecues, preparing family meals under the open sky, or simply enjoying a morning coffee surrounded by nature. With the right setup, you can create an outdoor haven that is functionally robust, aesthetically pleasing, and perfect for any occasion. Let's explore 15 essential features that will make your outdoor kitchen truly exceptional.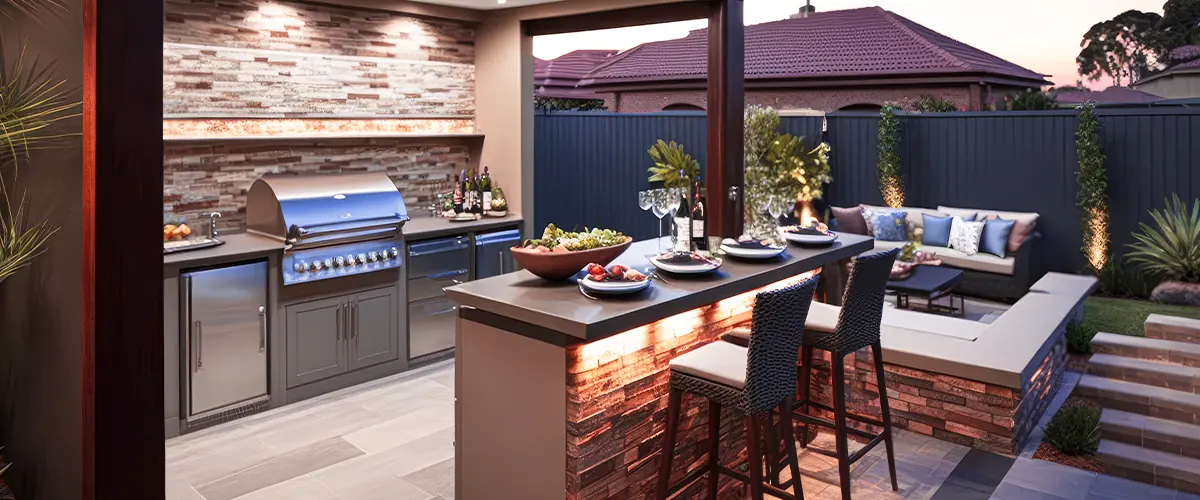 Must-Have Outdoor Kitchen Features
Who doesn't love a good wood-fired pizza, especially when cooked in your very own outdoor pizza oven? Imagine this: a crispy, smoky wood-fired pie, hot from the oven, enjoyed under the open sky. It's not just about pizza; it's about creating memorable experiences right in your backyard.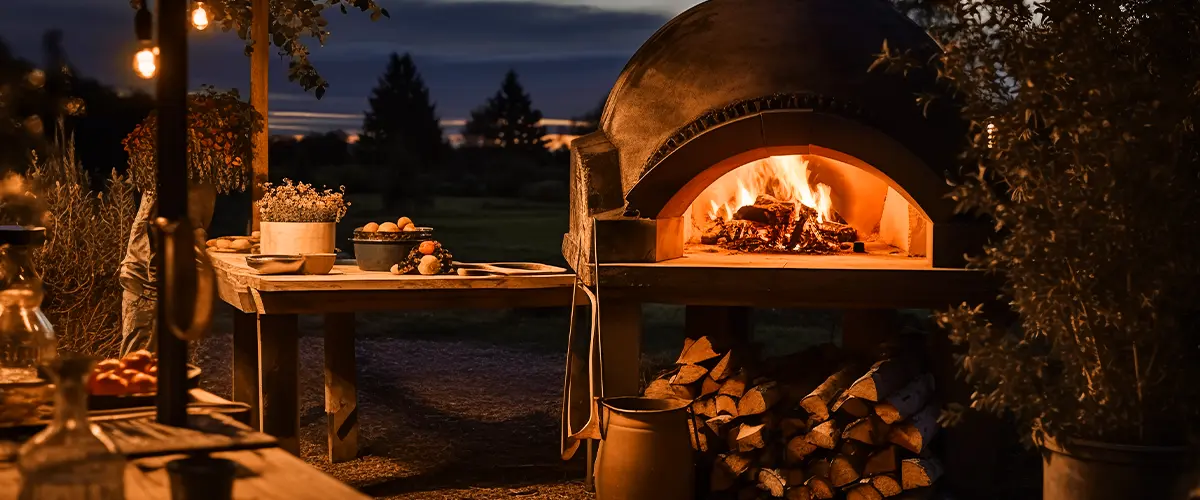 Isn't it a delight to host a backyard bash without any hiccups? An ice maker is the ultimate game-changer in your outdoor kitchen. Just imagine: no more dashing inside for ice. Your beverages stay chilled, your guests are happy, and your outdoor living just got a whole lot cooler. You'll love it!
Identifying the type of your sprinkler head is key, as different types require unique methods for adjustment. Evaluate the watering needs of your lawn to determine how best to adjust the heads for optimal irrigation coverage.
What's better than a backyard cookout? A cookout with a side of comfort! Bar seating transforms your outdoor kitchen into the ultimate gathering spot. It's a great way to add that social element; your guests can relax and chat while you grill up a storm. Trust us, bar seating is a must-have for your outdoor living space!
Nothing beats a cold drink on a hot day! A refrigerator is a must-have in your outdoor kitchen space. It keeps your beverages frosty and your ingredients fresh, elevating your outdoor cooking experience. Say goodbye to inconvenient trips inside – everything you need is right at your fingertips!
Adjusting your sprinkler system for optimum performance requires certain tools. Here is a list of the essentials you'll need:
Why get stuck in the kitchen hunting for cooking utensils when you can have everything handy outside? Weatherproof cabinets are a game-changer for outdoor kitchens! They store your grilling tools and keep them safe. No more constant in-and-out trips or worrying about weather damage. Now, that's an outdoor cooking dream come true!
Don't underestimate the power of a stainless steel outdoor sink in your outdoor kitchen! Whether you're rinsing ingredients, filling pots, or even washing hands, it's a convenience you'll appreciate. Say goodbye to indoor kitchen trips to clean up. A durable, rust-resistant stainless steel sink is a solid investment for awesome outdoor cooking experiences.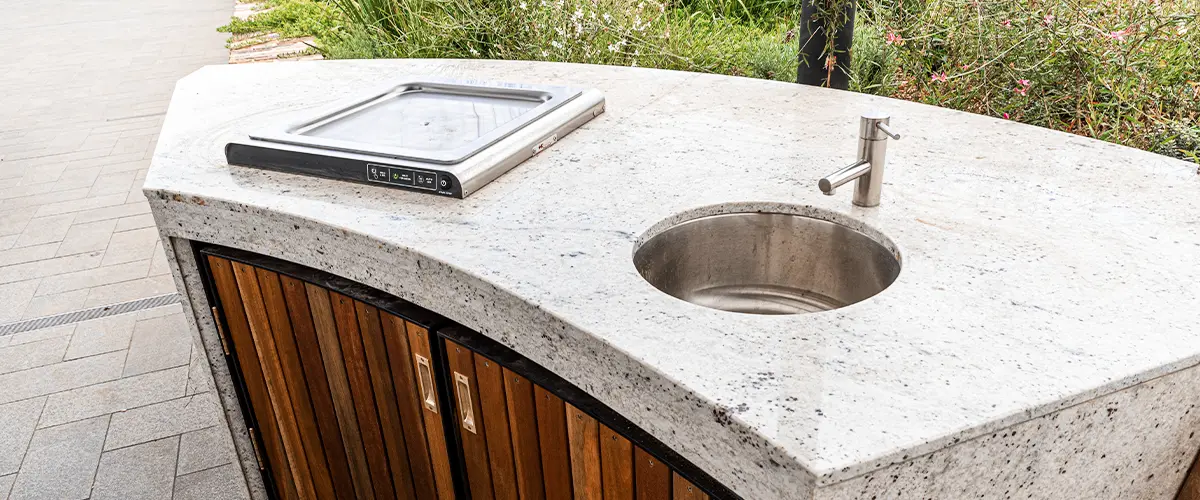 Who wouldn't want a fire pit in their outdoor kitchen? Imagine the ambiance – the crackle of wood-fired warmth, creating a cozy, inviting atmosphere for everyone. It's not just an aesthetic feature. It's a conversation starter. Your backyard parties just got an awesome upgrade with a fire pit.
You know what's a bummer at an outdoor kitchen party? Litter! Integrated trash and recycling bins are a real game-changer. They keep your outdoor space tidy and eco-friendly. They're an underrated but important part of your outdoor kitchen ideas. Trust us, your parties will thank you for this clutter-free solution!
Prep and Serving Counters
Prep and serving counters are an outdoor kitchen feature you won't want to miss! These spacious surfaces give you the room you need to slice, dice, and serve up that delicious summer fare. Plus, they're easily accessible, saving you many trips back to the indoor kitchen. How's that for convenient outdoor cooking?
An outdoor dishwasher? Yes, please! Imagine wrapping up a fabulous cookout and, instead of hauling dishes back inside, you simply load them into your outdoor dishwasher. It's all about convenience and enjoying the party without worrying about the clean-up. One less chore, more time for fun – that's a win in our book!
Outdoor Kitchen Lighting​
Don't underestimate the power of good lighting in your outdoor kitchen. It's not only practical but can also create a warm, inviting ambiance. Imagine grilling your favorite meal and dining under the soft glow of the lights. With the right lighting, your outdoor kitchen becomes more than just a cooking space; it's a magical place to make memories.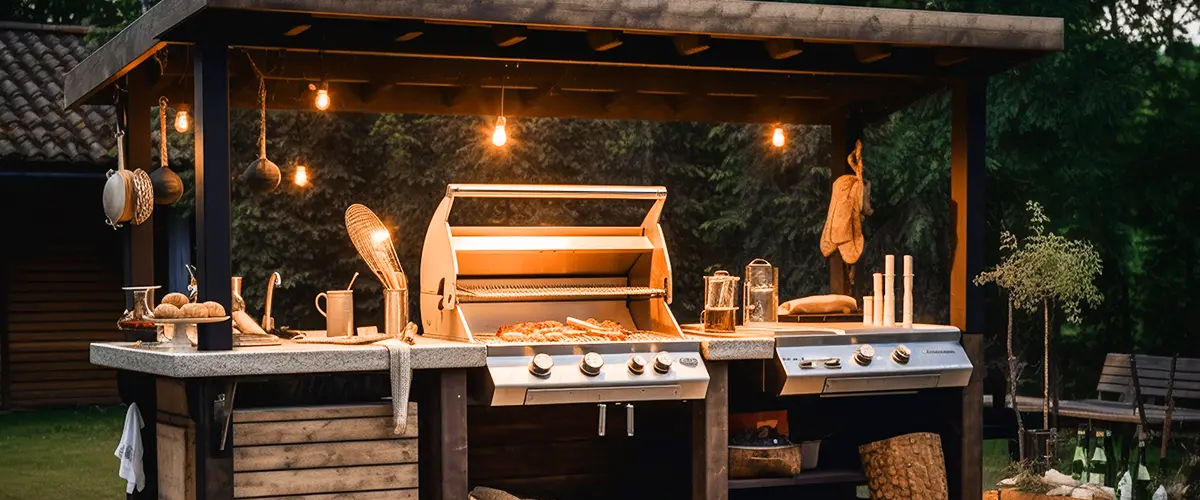 Take your outdoor cooking to the next level with an easy-to-use smoker! Want that authentic smoky flavor for your meats? With a smoker, you can savor mouth-watering meals from ribs to brisket, all while enjoying the al fresco experience. It's a game-changer that adds a depth of flavor not achievable with regular grilling. Create unforgettable backyard barbecue memories with this must-have appliance.
Ever thought about an outdoor fireplace? Talk about a game-changer for your outdoor kitchen! Nothing beats the inviting warmth and ambiance of a crackling fire. It's not just about heating, it's about creating memorable, cozy evenings outdoors.
A pergola is the perfect addition for a covered outdoor kitchen! Offering protection from the elements, it allows you to enjoy outdoor entertaining in any weather. It frames your kitchen area beautifully, creating a charming and comfortable space for memorable alfresco dining experiences. It's an invaluable feature for any outdoor kitchen!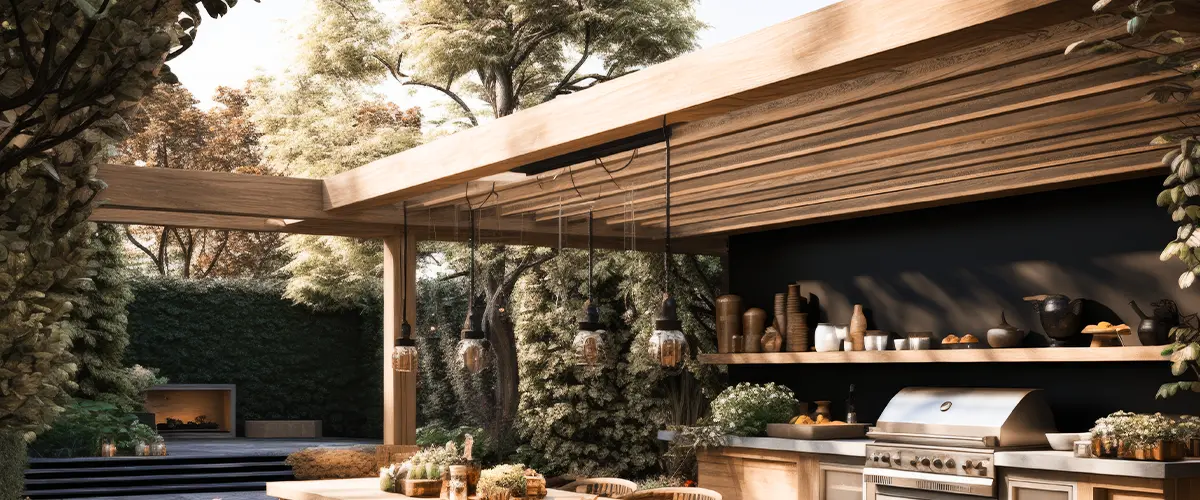 We Make Dreamy Outdoor Culinary Experiences Come True
To bring your dream outdoor kitchen to life, don't hesitate to call us at (979) 575-6019. As trusted contractors serving Bryan and College Station, TX, we're passionate about crafting outdoor kitchens that are not only functional but also make a statement. Whether it's installing a wood-fired pizza oven or setting up a cozy fire pit, we've got you covered. We're here to make your outdoor culinary dreams come true!